In analyzing my February credit card activity, I was able to incorporate both my hubby's credit card and my own, allowing me to look at most of the household expenses, as opposed to just my credit card.
Related Post: Where Did My Money Go in January?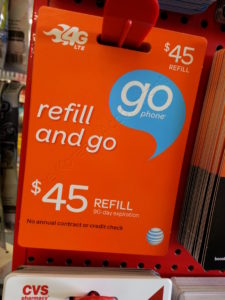 Our cellphone expense was $59.40, which is a little low, considering my normal monthly expense is $45 and his is $25. Since it should be around $70 a month, I expect March's cell phone expense to be higher than normal.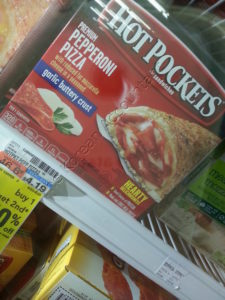 We spent only $125.45 on food, mostly because I was not home for dinner three to four nights of the week during tax season. My employer provided dinner every Wednesday night, which usually provided lunch the next day as well. I also started relying on those $2.99 frozen meals a few meals of the week when I would forget to pack lunch or dinner.
After a year of a constant puddle of water on our basement floor, my hubby finally went to Home Depot and purchased a sump pump battery and sulfuric acid for $129.58 to repair the sump pump so that it would pump the water out.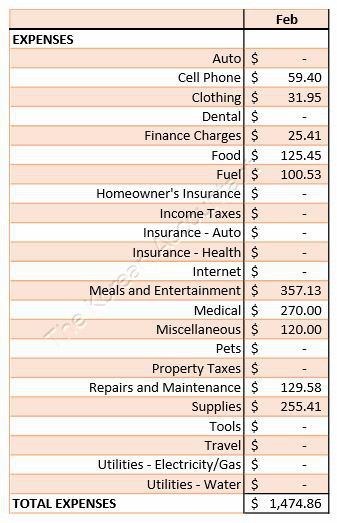 We spent $255.41 in supplies, such as toilet paper, dog food, cat food, cat litter, and other household goods. We usually buy our supplies from Amazon or Walmart.
Medical expenses were $270.00, which is two monthly payments of $135 on my hospital bill. My January medical expenses were lower than usual because I paid the January payment late, in early February.
Related Post: My Name Is Emilie, And I Had A Miscarriage
Our meals and entertainment expenses were fairly high at $357.13, mostly because I would either forget or be too tired to prepare my lunches and dinners for the week, and was working 6 days a week. So we would eat out for dinner, thus making our food expenses lower.
There's a miscellaneous charge of $120 for the deposit on our daughter's birthday party, which is an irregular charge and will not happen again, other than the remaining balance for the party.
Lastly, the finance charges came to $25.41, bringing the total February credit card charges for our household to $1,474.86. Hopefully March's credit card activity wasn't too bad, since I was busy working 28 of the 31 days that month.
Please follow and like us: