Home » Posts tagged 'student loan'
Tag Archives:
student loan
Back in September 2015, I created a financial bucket list for my 30s, which includes items that I had recently obtained, like my house that I have been slowly renovating, and life insurance. It also included items that I was working on, like getting disability insurance, and paying off my car and student loans. I have disability insurance now, and I was able to pay off my car, but I ended up getting a new car, so I still have an auto loan, albeit, with smaller payments.

My student loan has also decreased from the $14,000 balance it was around the time of that bucket list (mid September) to $6,700 today.
Related post: I Refinanced My Student Loan
Since I changed employers in February 2016, I was not eligible to contribute to a 401(K) like I had originally planned until August, at which I point I started contributing the minimum amount of 5% to meet the company match. After a few weeks, I increased my contribution to 10%.As for my IRA, I transferred it from LPL Financial to Fidelity because I found it much easier to make contributions with Fidelity than with LPL Financial. I picked an investment fund with a fancy name. My 401(K) is also with Fidelity.
Related post: It's Never Too Late To Save For Retirement
My new employer also provides health insurance, which I just recently renewed for next year. But since the deductible is a whopping $12,900.00, my financial bucket list now includes getting a health savings account to cover the deductible. That brings me to my 2017 financial bucket list.
Related post: I Was Pregnant Without Insurance
The first item on my list is to pay off my credit card.

My credit card balance has been higher this year than the previous year due to a medical emergency I had in late 2015, and our first family trip to Florida and Disney World in 2016.

I could just pay it all off now, but that would leave a few hundred dollars in my bank account, which I am not comfortable doing. Hopefully, I can pay off my credit card before my tax season ramps up, in the middle of February.
Related post: The Financial Lessons Learned From Disney World
Related post: 9 Reasons Why I Pay My Credit Card Every Week
As soon as my credit card is paid off, I plan on increasing my 401(K) contribution to 20%.
I have been increasing my 401(K) contribution by intervals of 5%, and I am currently at 10%, so I only need to increase it 2 more times to reach the 20%. My deadline for my 401(K) contribution is March 1, assuming my credit card is paid off by then.
At the same time, I should probably get a will, now that I have a dependent and a house. Getting a will probably won't take that long, since I'm not the one drafting the will, but I need to make some unpleasant decisions in order to get the will. I might purchase one of those temporary wills from Staples or Legal Zoom to get by my upcoming tax season, and then see a lawyer in the spring for a more comprehensive will.
I can also work on paying off the remaining balance of my student loan by the end of 2017, or early 2018, as soon as my credit card is paid off. Once I start channeling the funds that are currently going towards my credit card to my student loan, I could have it paid off in a matter of months.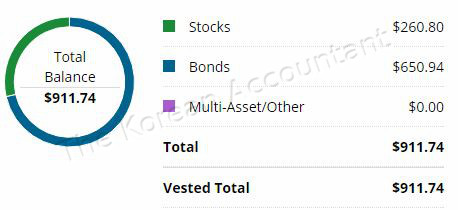 If I can just stop distracting myself with the countless projects I am working on, I could quickly roll over my 401(K) from my previous employer into my IRA. That would be an extra $911.74 into my IRA.
When tax season ends, I would love to finish all the DIY projects I have planned for my house, which includes finishing my kitchen, painting the guest room, master bedroom, and hallway, updating the bathroom, and transforming the basement into a useable room, perhaps an extra bedroom, or a small gym.
Related post: Painting My Dining Room Blue
Related post: Painting My Dining Room With Primer
Related post: Prepping My Dining Room For Painting
And finally, once my student loan is paid off, I can start contributing to a health savings plan, and a college savings plan for my daughter. Perhaps I'll even increase my 401(K) contribution to 30%, or make extra auto payments on my husband's car. But that's more like a 2018 financial bucket item. Let's just work on paying off my credit card first.
Please follow and like us: