Home » Posts tagged 'interest'
Tag Archives:
interest
During the last week of tax season, my office received many calls from clients wondering why they were making tax payments with their tax extensions. Many were under the misconception that a tax extension was a way to postpone any tax payments. That is not completely true.
Being that the U.S. government is funded by taxing their citizens, it will do everything in its power to get as much money as possible. So, if you owe tax, the IRS will charge you penalties and interest on any monies owed and not paid. So if you didn't pay enough in taxes throughout the year and owe money in April, you can be charged penalties and interest on the money that you owe on April 15. If you file an extension, and thus postpone the due date to October 15, you may owe additional penalties and interest on any monies owed for the time between April, the regular tax due date, and October, the extended due date.
Related Post: Understanding The 1040 Individual Tax Return
Related Post: 4 Ways I Increased My Tax Refund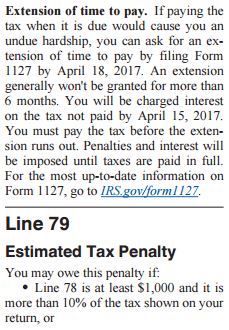 So while you can technically postpone your tax payments until October, you may owe even more than you would have if you had just paid them on time. Paying an estimate in April of what you think you may owe will save you on penalties and interest. The instructions for the 1040 even say you may owe a penalty if the amount owed is more than $1,000 and that it is more than 10% of the tax shown on your return. It also says you will be charged interest on the tax not paid by April 15. Do you really want to give the IRS more than you have to? I know I tend to get mad at myself for having to pay more because I was too lazy to take care of it earlier.
Please follow and like us:
The other night, I came across an article titled "Secret perks: Why department store clerks are so pushy about credit cards" by Mandi Woodruff. Since I used to work at a department store back in my mid 20s, I absolutely had to read this article. And while I agree with everything in the article, there are a few more points I would like to add.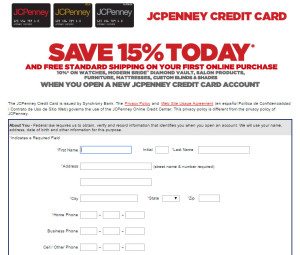 1) We made a flat commission of a few dollars from every credit card application we could process, whether the customer was approved or not. As a way of motivating us to encourage customers to apply for a credit card, our managers suggested to view each credit card application as an increase in our (minimum) hourly wage. That way, the really persuasive clerks who averaged one per hour would make around $10.25 per hour rather than the measley $7.25 per hour.
2) Every so often, the commission would increase to five dollars per credit card application, basically to meet the monthly quota.
3) A congratulations announcement to the employee would be heard on the store wide speaker system, along with the number left needed to achieve the daily goal. The announcement was vague enough so that customers couldn't figure out what it was for.
4) Store credit cards aren't necessarily bad, if you have self discipline and know how to use the system to your own advantage. Only use the credit card on the days you get an extra percentage off for being a credit card holder. It's usually 10% or 15%.
5) Yes, the interest rate is ridiculously high (20%+), which is why you should be paying off the card in the same month, so that you don't pay any interest. To keep your debt in control, you should actually be paying your regular credit card(s) (like your Mastercard, Visa, American Express, Discover, etc) regularly, anyway. I make weekly payments on my credit card.



6) Department stores, and pretty much all national retail stores, now offer credit cards to get the most out of your wallet. You pay for the merchandise by putting it on the store credit. If you don't pay it off immediately, you then pay for the interest on those items, which is paying for not paying it. If you let it go long enough, you're basically paying for your merchandise twice, three, or even four times over. And that's why the store does it.
Personally, I'd rather use my regular credit card to collect the points. Since I pay my credit card weekly, I virtually never pay interest. And I'm saving my points for the right time. Perhaps a gift card to GameStop for my hubby for Christmas, or maybe something for me.

I did sign up for a Home Depot credit card when we purchased our hot water heater this year. Rather than paying the $500 up front, we paid it off during the 0% interest period. Plus, every now and then, Home Depot has special sales for their credit card customers, which I plan on using since I have been slowly renovating our house.

With Christmas around the corner, no doubt the store clerks will be pushing their credit cards so that you don't have to pay upfront. Don't be afraid to say no. Even when they ask for your email and/or phone number, no matter how pushy they are. You can always say no, or just leave everything at their counter and walk out.
Please follow and like us: