Home » Posts tagged 'insurance'
Tag Archives:
insurance
Back in September 2015, I created a financial bucket list for my 30s, which includes items that I had recently obtained, like my house that I have been slowly renovating, and life insurance. It also included items that I was working on, like getting disability insurance, and paying off my car and student loans. I have disability insurance now, and I was able to pay off my car, but I ended up getting a new car, so I still have an auto loan, albeit, with smaller payments.

My student loan has also decreased from the $14,000 balance it was around the time of that bucket list (mid September) to $6,700 today.
Related post: I Refinanced My Student Loan
Since I changed employers in February 2016, I was not eligible to contribute to a 401(K) like I had originally planned until August, at which I point I started contributing the minimum amount of 5% to meet the company match. After a few weeks, I increased my contribution to 10%.As for my IRA, I transferred it from LPL Financial to Fidelity because I found it much easier to make contributions with Fidelity than with LPL Financial. I picked an investment fund with a fancy name. My 401(K) is also with Fidelity.
Related post: It's Never Too Late To Save For Retirement
My new employer also provides health insurance, which I just recently renewed for next year. But since the deductible is a whopping $12,900.00, my financial bucket list now includes getting a health savings account to cover the deductible. That brings me to my 2017 financial bucket list.
Related post: I Was Pregnant Without Insurance
The first item on my list is to pay off my credit card.

My credit card balance has been higher this year than the previous year due to a medical emergency I had in late 2015, and our first family trip to Florida and Disney World in 2016.

I could just pay it all off now, but that would leave a few hundred dollars in my bank account, which I am not comfortable doing. Hopefully, I can pay off my credit card before my tax season ramps up, in the middle of February.
Related post: The Financial Lessons Learned From Disney World
Related post: 9 Reasons Why I Pay My Credit Card Every Week
As soon as my credit card is paid off, I plan on increasing my 401(K) contribution to 20%.
I have been increasing my 401(K) contribution by intervals of 5%, and I am currently at 10%, so I only need to increase it 2 more times to reach the 20%. My deadline for my 401(K) contribution is March 1, assuming my credit card is paid off by then.
At the same time, I should probably get a will, now that I have a dependent and a house. Getting a will probably won't take that long, since I'm not the one drafting the will, but I need to make some unpleasant decisions in order to get the will. I might purchase one of those temporary wills from Staples or Legal Zoom to get by my upcoming tax season, and then see a lawyer in the spring for a more comprehensive will.
I can also work on paying off the remaining balance of my student loan by the end of 2017, or early 2018, as soon as my credit card is paid off. Once I start channeling the funds that are currently going towards my credit card to my student loan, I could have it paid off in a matter of months.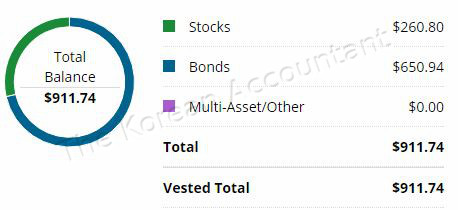 If I can just stop distracting myself with the countless projects I am working on, I could quickly roll over my 401(K) from my previous employer into my IRA. That would be an extra $911.74 into my IRA.
When tax season ends, I would love to finish all the DIY projects I have planned for my house, which includes finishing my kitchen, painting the guest room, master bedroom, and hallway, updating the bathroom, and transforming the basement into a useable room, perhaps an extra bedroom, or a small gym.
Related post: Painting My Dining Room Blue
Related post: Painting My Dining Room With Primer
Related post: Prepping My Dining Room For Painting
And finally, once my student loan is paid off, I can start contributing to a health savings plan, and a college savings plan for my daughter. Perhaps I'll even increase my 401(K) contribution to 30%, or make extra auto payments on my husband's car. But that's more like a 2018 financial bucket item. Let's just work on paying off my credit card first.
Please follow and like us:
At the beginning of 2015, my hubby and I decided to take the risk of going without insurance for the entire year. Since we were both young (enough), healthy (relatively), and our daughter was covered by Child Health Plus, we said screw you to Obamacare. Of course, we had to mess that plan up by getting pregnant. In early fall, we were pregnant and uninsured, which is actually a fairly common scenario. So common, in fact, that a quick search on Google yielded 56.6 million results.
The most common program for uninsured, pregnant women was Medicaid. When I first got Child Health Plus for our daughter, I was told that my income was too high for any Medicaid assistance, which was no surprise to me. But it was just low enough to qualify for Child Health Plus. When I was researching affordable health care as a pregnant, uninsured woman, I found out that the Medicaid income limits were higher for pregnant women.

But of course, I was still above the income limits. (Apparently, the lesson here is if you want health insurance in America, you have to be poor.)
After reading online forums about mommies and babies, I called my Ob-Gyn's office and asked for their advice. Their billing department suggested I contact the hospital I had my daughter at, because they had a specific clinic that catered to the uninsured, which had an Ob-Gyn office. At first I was a little hesitant, but when they said that my specific Ob-Gyn doctor, whom I loved, worked there a few mornings a week, I was sold.
When I spoke to the financial department at my hospital, it turns out they have a financial assistance program for the uninsured.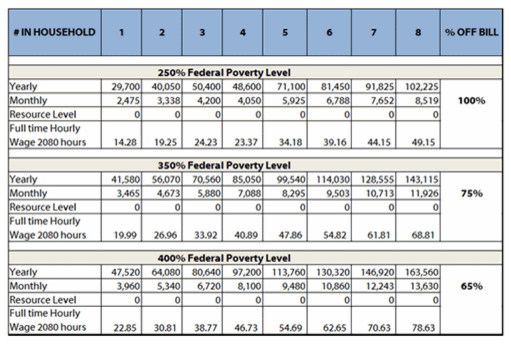 After sending in some paperwork and a few paystubs, I was able to get 50% of any medical bill that went through their financial system, which included the Ob-Gyn clinic. The 50% off would even apply after I got insurance through the healthcare exchange in January 2016, which was four months away.
Being the numbers driven person that I am, I asked what the typical prenatal appointments and procedures cost, and started crunching numbers. Drawing back on the prenatal appointments when I was pregnant with my daughter, the first prenatal visit includes an ultrasound ($400), papsmear ($591), and initial bloodwork ($850). Of course, there was also the doctor ($470), and the specialist to analyze the ultrasound and tell the doctor what it showed ($170). The ultrasound specialist is a separate charge from the hospital system, thus not included under the "charity discount", the nice name the hospital financial department gave my 50% discount on the bill. So, the total for the first prenatal visit should come to $1325.50 (50% of $400+$591+$850+$470, plus the $170 for the radiologist, without any discount), assuming a low risk pregnancy and no complications.
The next two prenatal visits, about 12 weeks and 16 weeks, are $116 each, plus the doctor to listen for the heart beat and ask how I'm feeling, $470 each, making each one $586.00. Taking off the 50% makes each one $293.00.
That brings us to the 20 week mark, halfway through the pregnancy, when it's time to check for the gender and more blood tests. Since that would have been January 2016, when I would have been able to pick up insurance through the healthcare exchange, I didn't bother calculating the costs. But the financial department did tell me that a C-section without any complications is around $11,500, which includes the hospital stay and doctor, but not the anesthesia.
The estimated cost for the first three prenatal visits totals $1911.50 ($1325.50 + $293.00 + $293.00).

Compare that to the estimated cost of carrying health insurance for the entire year. When I checked the health care exchange at the end of 2014, the lowest premium was around $350 a month, making the annual cost $4200.00.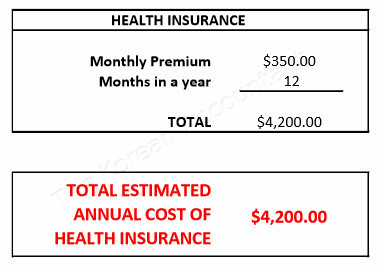 Based on those numbers, it was definitely worth the risk of not getting insurance. As long as you don't have any complications, or end up in the emergency room like I did. I ended up miscarrying, which is not a story for the faint of heart. I had an ambulance ride to the ER, and an overnight stay at the hospital so that I could get a blood transfusion. Good thing I had the 50% charity discount.
Please follow and like us: