Home » Posts tagged 'extension'
Tag Archives:
extension
During the last week of tax season, my office received many calls from clients wondering why they were making tax payments with their tax extensions. Many were under the misconception that a tax extension was a way to postpone any tax payments. That is not completely true.
Being that the U.S. government is funded by taxing their citizens, it will do everything in its power to get as much money as possible. So, if you owe tax, the IRS will charge you penalties and interest on any monies owed and not paid. So if you didn't pay enough in taxes throughout the year and owe money in April, you can be charged penalties and interest on the money that you owe on April 15. If you file an extension, and thus postpone the due date to October 15, you may owe additional penalties and interest on any monies owed for the time between April, the regular tax due date, and October, the extended due date.
Related Post: Understanding The 1040 Individual Tax Return
Related Post: 4 Ways I Increased My Tax Refund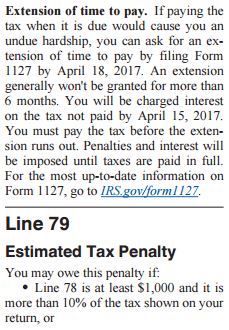 So while you can technically postpone your tax payments until October, you may owe even more than you would have if you had just paid them on time. Paying an estimate in April of what you think you may owe will save you on penalties and interest. The instructions for the 1040 even say you may owe a penalty if the amount owed is more than $1,000 and that it is more than 10% of the tax shown on your return. It also says you will be charged interest on the tax not paid by April 15. Do you really want to give the IRS more than you have to? I know I tend to get mad at myself for having to pay more because I was too lazy to take care of it earlier.
Please follow and like us: