Home » Posts tagged 'auto loan'
Tag Archives:
auto loan
The best way to cut your expenses does not necessarily mean totally cutting out all the joys in life, like your morning coffee, or going out to dinner. It helps, but sometimes, you just really need that jolt in the morning to keep you from staring at your computer screen for the first hour of the day. So let yourself splurge on the coffee every once in a while. To really make an impact on your expenses, you need to reduce those pesky expenses that come back every month, like your rent (or mortgage payment), your auto and/or student loans, your utilities, and your grocery bill. My biggest household monthly expenses, for example, are my mortgage, 2 auto loans, 2 student loans, groceries, and the electric/gas bill. I also have a cell phone and a gym membership, but they are relatively small compared to the other categories. And I haven't paid for cable tv since 2006.
1. Your rent or mortgage payment is probably the biggest slice of your monthly expenses. My mortgage payment of $820, which includes the mortgage, taxes, and homeowners' insurance, amounts to 35% of my monthly expenses. Now, finding a cheaper apartment, or lowering your mortgage, may not be easy, but it's not impossible. I regularly check mortgage rates and closing costs for the day that I should refinance my mortgage, even though I'm only 2 years into my 30 year mortgage. Lowering your rent or mortgage, even by just $25, adds up to $300 a year.
2. Student loan payments are also a big chunk of our income. They total $570 each month, or 24% of my regular monthly expenses. I have thought about refinancing our student loans to a private loan to reduce the 6.55% interest rate, but I don't want to lose the flexibility that federal student loans offer, such as deferment or income based payments. I also enrolled in automatic electronic payment to lower my interest rate down from the initial 6.8% to 6.55%, thus lowering my monthly payment.
3. Your auto loan, if you have a car, is probably your next biggest expense. Payments can range anywhere from $150 to $500+, depending on what kind of car you have. With two cars in my household, our auto loans total $420.00 a month. The easiest way to lower your monthly auto loan is to downgrade your vehicle. Really assess your needs and determine if you really need, as opposed to want, that $30,000 car, which, at 5 years and 3% interest, is $539.06 a month. If you bought a $25,000 car instead, with the same loan terms, the monthly payment becomes $449.22, a $89.84 difference. That's a savings of $1,078.08 a year.
The other way to lower your auto loan is to refinance it, similar to refinancing your mortgage. It may not lower your monthly payment as much as downgrading your vehicle, but it could still knock off more than a few dollars. I once refinanced my old Jeep to lower the interest rate from 4.99% to 2.5%, which saved me about $20 a month.
4. Our groceries expense is around $300 a month, for our family of 3 people, 3 dogs, and an old lady cat. Since beef is relatively expensive, we stick to mostly chicken and pork, and eat beef only a few times a month. We also buy grocery store brands whenever possible, and not the brand names. Since America has it backwards and makes the healthy food expensive, I usually buy frozen vegetables and fruits rather than the fresh stuff, unless they are on sale. Four times a week, I also eat leftovers for lunch the next day. I tend to treat myself and buy lunch on Wednesdays, since I teach Tuesday nights, and I am not home for dinner.
5. My electric and gas bill is another bill that can get as high as $300 in the winter, but there are a few ways to reduce it. The simplest way is to use energy efficient bulbs, windows, and doors, basically making the house energy efficient. I also take advantage of budget billing with the utility company. Basically, the utility company estimates the electricity and gas I used in the past year and divides that amount into 10 monthly payments. That way, my bill is around $140 every month for 10 months, I don't have wild swings in my energy bills between the summer and winter, and I get 2 months of no bills. The drawback to that is that they kick me off budget billing if I'm late on even one payment, to which I can just call them and get back on.
6. While cell phones may be another slice of someone's cash flow pie, it is a relatively small portion of mine. Since my hubby and I don't make many calls, use little data, and leach off of the free Wi Fi that is almost everywhere, we ditched our cell phone contracts a few years ago and went prepaid. For $70 a month, we get 500 minutes together, unlimited text, and 1.5 gb of data for me, and we've never gone over the limits. We've also got smart phones we love for less than $170, each.
7. Cable tv is a thing of the past. I haven't paid for cable in years, thanks to Netflix, Amazon Prime, and the local library. Plus, I become a total couch potato when there is the temptation of tv. And besides, a common trait among rich people is that they don't watch a lot of TV, anyway.
8. When my gym membership expires next February, I don't plan on renewing it. My preferred exercise is running, and I can run for free outside. I joined the gym back in February when it was too cold to run outside, and I was training for my first half marathon, the Binghamton Bridge Run Half Marathon, in May. I paid for a whole year upfront to get the lowest rate possible, which amounts to $30.00 per month. But as soon as the nice weather arrived in May, I was never at the gym. And I hate wasting money.
The total of these 8 expenses (really 7, since I don't have cable tv) is $2,350 per month. When you put them into a pie chart, you can see just how much space my mortgage payment, student loan payments, and auto loan payments take compared to the other expenses.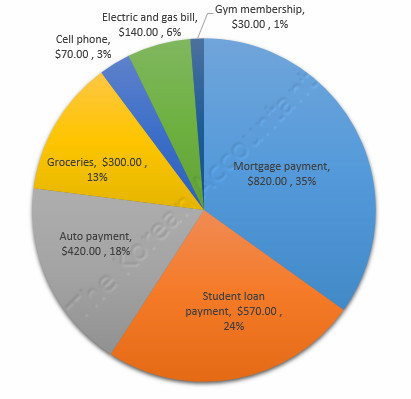 Making even just minor changes that lower those payments by a little bit would lower my expenses and offer some relief on my monthly cash flow.
Please follow and like us:
My twenties have come and gone, and my thirties are (almost) half way done. Now that I am a working wife, mom, homeowner, not getting any younger and continously getting called "Ma'am" rather than "Miss", I have to prepare for the future. I have my bucket list of financial goals that I want to achieve, some of which are done, others I've just started.
1) Own A Home. I purchased my first home 2 years ago. I want my daughter to have the same wonderful childhood memories of running around the house and biking down the streets of suburbia that I have of my childhood.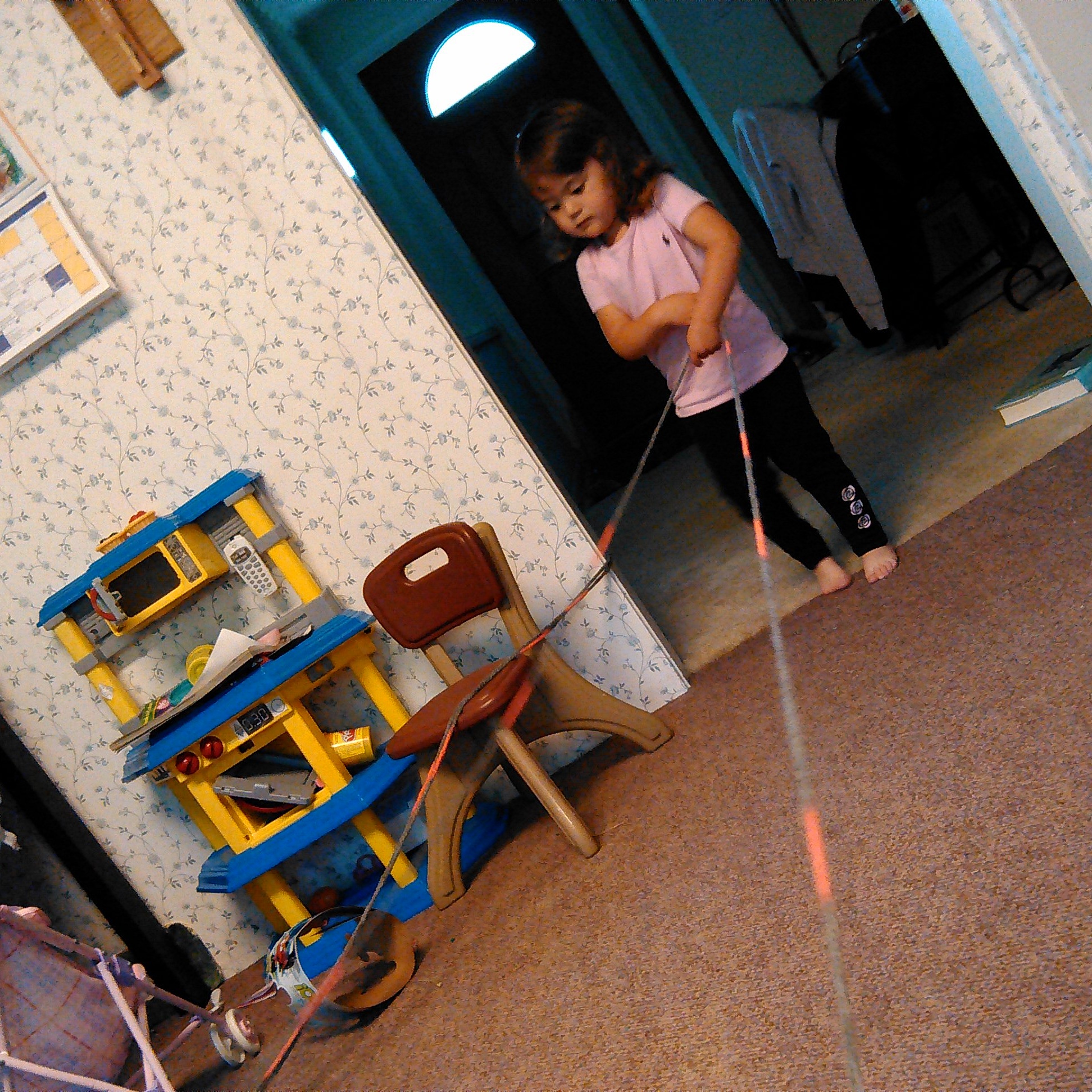 Plus, I was tired of paying rent to someone else.
2) Get Life Insurance. Now that I have a dependent, and I'm not counting my dogs here, I want to make sure she is taken care of if anything happens to me. I purchased a 10 year, $250,000.00 term life insurance policy, which means if I don't make it past 10 years, my beneficiary will receive up to $250,000.00, depending on the circumstances at that time. Since I plan on surpassing 10 years, my beneficiary shouldn't receive anything at the end of the 10 year term. In simple terms, I am renting life insurance for 10 years, at $130 a year. I purchased it as an alumni of Binghamton University. I chose a $250,000.00 coverage amount to cover my mortgage, my auto loan, my student loan, and my daughter's estimated future (public) college education loan.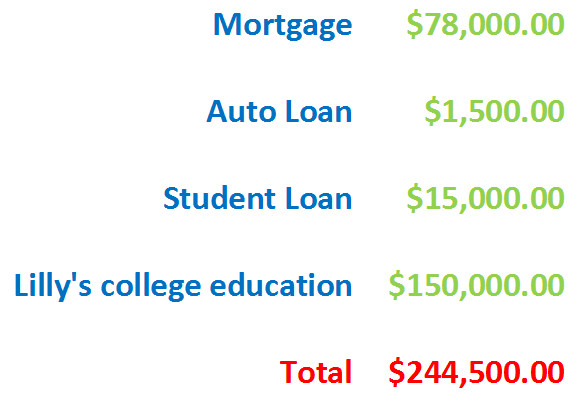 3) Fix IRAs. I say fix, because I already had an IRA, but it has been sleeping since its inception, when I rolled over my itty bitty 401k from a previous employer. I made my first contribution to it since its inception back in April, to eliminate the few hundred dollars in taxes I owed.
4) Pay Off my Car and Student Loans. In February, I made it a goal to pay off my car by the end of summer, so that I can move on to my student loans and pay off my debt as soon as possible rather than dragging it out. Just because the bank gave me 5 years to pay off my car, doesn't mean that I have to drag it out for the full 5 years. I am on track to make my final car payment this month.
5) Get Disability Insurance. A few weeks ago, I read the article The 11 Worst Money Mistakes To Make In Your 30s by Kathleen Elkins, which mentioned that a major financial mistake that many people make is not planning for a disability. They plan for a short term emergency (emergency fund), and for their absence (i.e. death), but not for a long term absence from the workforce, and watch themselves go broke. A quick quote from my life insurance provider (#2 above) is around $90 a year, which will provide about 50% of my income for up to 2 years, should I ever become unable to work for a period of time. I plan on applying for it next week.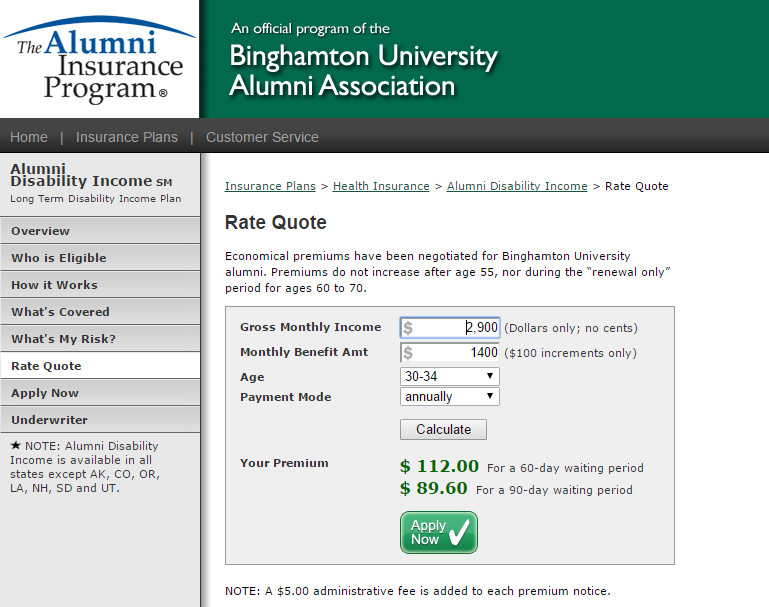 6) Contribute To My 401K. This year, my employer started offering a 401K plan, to which I will contribute to once I take a look at the options available to me.
7) Get A Will. I will admit that I have been procrastinating with this one, mostly because I don't know who to choose as my daughter's legal guardian, should my will take effect before she reaches 18. I will take care of it sooner than later.
My financial bucket list will never be empty, because many of the items in it will be continuously updated as I get older, especially life insurance, IRAs, 401K, and my will. Plus, I know I will fill another bucket at some point, which will include a college savings plan, health insurance, and saving up to run the Antartica Half Marathon, probably many, many, MANY, years from now.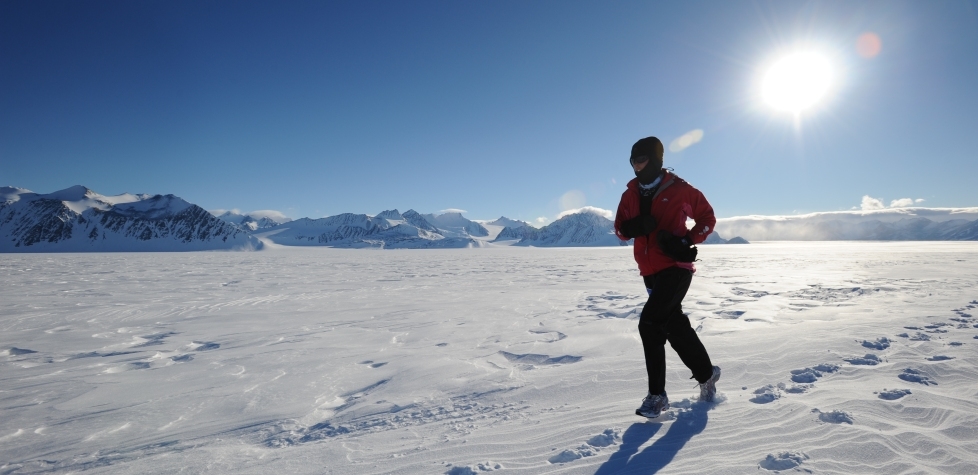 What's in your bucket?
Please follow and like us:
We are almost through January already. The holidays have come and gone. Schools are back in session, business as usual at work, and a little free time to review my debt situation.
Please follow and like us: