On February 1st, I started a new job as a staff accountant at a local CPA firm. Six months later, on August 1st, I became eligible for their 401(K) plan. In addition to my own personal benefit, I felt a moral and professional obligation to contribute to my 401(K) plan. I asked HR for more information, and they gave me the website to enroll. Coincidentally, the website belongs to Fidelity, where my hubby and I already have our own IRAs, and he has his own 401(K) with his employer.
When I logged in, Fidelity presented me with the enrollment page for my employer's 401(K) plan.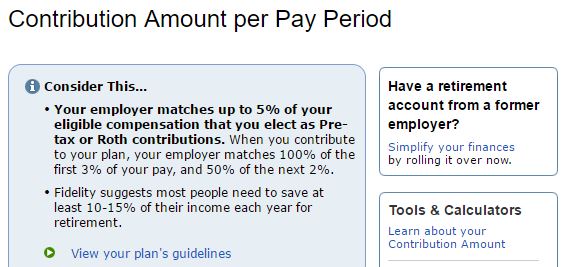 The first 3% that I contribute is matched by my employer 100%, and the next 2% is matched 50%.

At a gross salary of $1000 a week, the first $30 ($1000 X 3%) is matched dollar for dollar, turning my $30 contribution into $60. The next $20 ($1000 X 2%) is matched $0.50 for each dollar, turning the $20 into $30 ($20 + $10). That means that for every $50 ($30 + $20) I contribute from my own paycheck, my employer will contribute another $40 ($30 + $10) on top of that.
With my first contribution deposit into my 401(K) on August 31, at $90 ($50 + $40) a week, I'll be able to accumulate $1620 ($90 X 18 weeks) in contributions in my 401(K) by the end of this year. There is also the tax benefit of contributing to my 401(K), since my contributions are before tax, thus lowering my taxable income. In true accountant fashion, I am eager to find out what kind of effect the contribution will have on my taxes.
Since I barely felt the reduction in my paycheck, I plan on increasing my own contribution to 10% by the end of fall, as I make my towards the 20% contribution rate.

At 20%, the contribution becomes $240.00. Now I just have to persuade my hubby into increasing his 401(K) contribution from a paltry 2% to at least 10%. I also need to pick the investments in my 401(K) plan. To help with that, I am currently reading "The Smartest Retirement Book You'll Ever Read" by Daniel R. Solin.
Please follow and like us: