It's never too late to make a contribution to your IRA. I made my first IRA contribution in 5 years. All it took was owing the IRS $350.
2014 Taxes
My tax situation is fairly common: married filing jointly, 1 dependent, 1 mortgage, 2 student loans, a couple savings accounts, and 2 IRAs, between my husband and myself. And, of course, no health insurance for either of us. Thankfully, our toddler has health insurance from Child Health Plus NY, which is wonderful. $45 a month, no deductible, no copay.
Income and W2s
Once I finished the income portion on the H and R Block website, the little window on the left said that we owed the IRS around $2000. I, personally, love that little window, because I love to watch that little figure change from the red negative number (tax owed) to the positive black number (tax refund). My hubby, on the other hand, hates that little window. He'd rather wait till the end to see the final number.
Adjustments, Deductions, and Credits
As I entered our adjustments, deductions, and credits, the taxes owed slowly went down. This included our student loan interest, mortgage interest, child care credit, child tax credit, and the dreaded Affordable Care Act tax penalty.
As I approached the ACA tax penalty portion of the process, I was nervous about the outcome of clicking the "No health insurance" box in the Affordable Care Act section. Thankfully, the penalty was much lower than I expected. While I was expecting the penalty to result in us owing the IRS several hundred dollars, the little window displayed a negative $350 in red. At that point, I said "No way am I paying $350 to the IRS after already paying FICA." Then a light bulb went off. Since I had been thinking about brushing the dust off my IRA that has been sitting dormant for over 5 years, I went back to the IRA contribution portion of the tax interview and started playing with numbers.
Late Is Better Than Later
After some trial and error, we discovered that contributing $1,100.00 each into our respective IRAs would not only eliminate the $350 we owe to the IRS, but we would actually get a $3 refund from the IRS AND a $346.00 refund from NY. Cha Ching!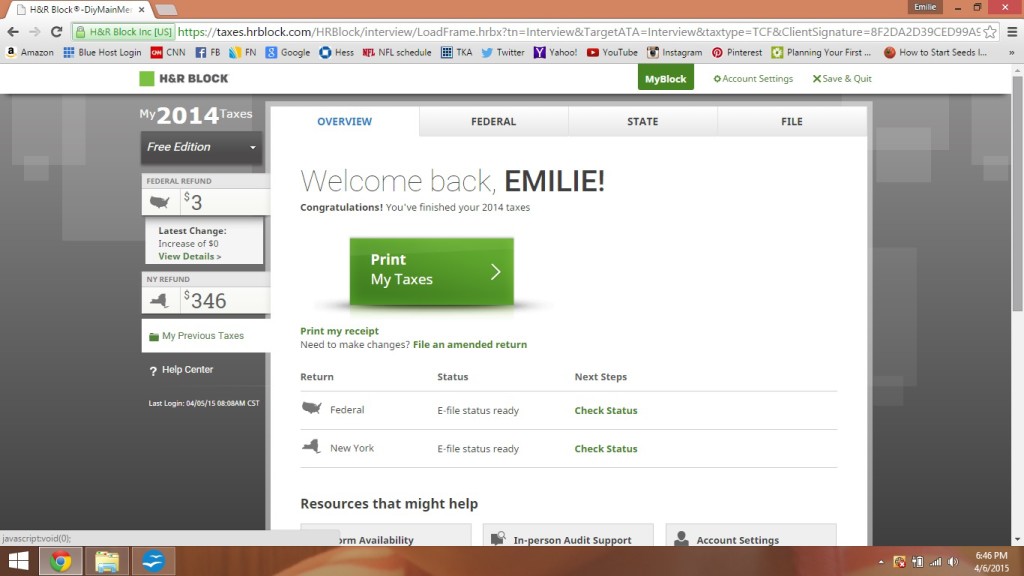 Now we just had to figure out exactly where our IRAs were. Fortunately, that didn't take too long. I made an appointment with my assigned financial advisor, who was wonderful, deposited the contribution (we ended up depositing both $1,100 checks into my IRA, which could be done at a local bank, First Niagara), and e-filed our taxes on Easter Sunday.
One week later, $346.00 was deposited directly into my bank account, which I put towards the Silver Bullet.
Please follow and like us: