After I paid off my car loan in September, I put those big payments towards my Mohela student loan, which was $14,141.08 at the time. Last month, at $12,074.43, I refinanced the loan with my credit union, GHS Federal Credit Union. The old loan was 6.55% interest, $258.13 a month, with a scheduled payoff date of August 7, 2021
The new loan is 5.00% interest, $329.64 a month, and a scheduled payoff date of December 6, 2018.

Since I had been making monthly payments of $1000.00 to Mohela, and plan to continue that with the new loan, the change in my minimum monthly payment doesn't affect my monthly cash flow, and my planned payoff date is December 2016.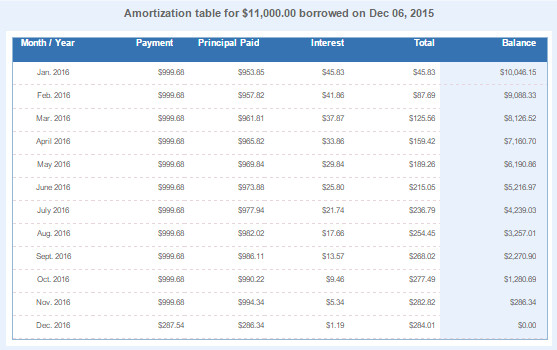 I had previously said that I wouldn't refinance my student loan because I didn't want to lose the leniency of the lender, just in case I couldn't make the loan payments for any reason. But with a planned payoff date of December 2016, I expect that I won't need to ask for leniency. In addition, I don't want to deal with the possibility that my student loan could be sold to another lender without my knowledge.
I borrowed $11,000.00 from GHS rather than the full $12,074.43 amount to lower my monthly payment, and to force myself to pay off the remaining $1,074.43 right away, since the first payment of my new loan is due in January. I also set up automatic biweekly payments from my GHS checking account, so that I never have to worry about late payments. And since the loan for my other car is with GHS as well, it is so convenient to be able to log into only one account online to see my bank accounts and both loans, rather than having to log into multiple websites. I always have trouble remembering my password for my Mohela account.
Please follow and like us: