We are almost through January already. The holidays have come and gone. Schools are back in session, business as usual at work, and a little free time to review my debt situation.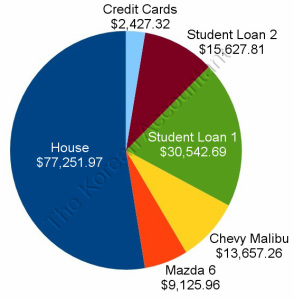 My hubby and I owe $77,251.97 on the house, $9,125.96 on the Silver Bullet (2006 Mazda6), $13,657.26 on the Black Knight (actually, charcoal, 2012 Chevy Malibu), $30,542.69 on his student loans, and $15,627.81 on my student loans. We also owe $2,427.32 on our credit cards, adding up to a lovely $148,633.01. And while we are in a better position than the average family, whose debt is $225,238.00, it is always on my mind. Since our total savings is almost enough to pay off both cars, I proposed to my hubby that we pay off the Silver Bullet, to free up $230.00 a month. Since he pretty much leaves the major financial decisions to me, me being the accountant, he was fine with it. Plus, who wouldn't love to have an extra $230 a month in your pocket?
The downside to that is the big bite it will take out of our savings. I know I definitely want to pay off the Silver Bullet this year, but I've been going back and forth as to whether I should just pay it off next month, or make huge monthly payments for next 6 – 9 months, and have her paid off by the summer.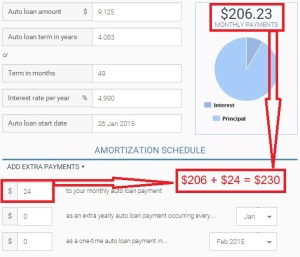 I used an auto loan calculator to determine how much interest I would save by paying off the loan early, either next month or this summer. If I continue to pay $230.00 a month ($230.32 is the closest I could get on the auto loan calculator), which, by the way, is higher than the minimum payment of $206.23 (it's actually $204.99, but every amortization calculator is different), the total remaining interest for the life of the loan is $867.20.
Option 1: Pay off next month.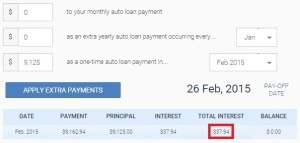 If I pay it off next month, the remaining interest is $37.94, saving me $829.26 ($867.20 – $829.26), which, interestingly, is a little more than one mortgage payment. That means our savings would take an almost 50% hit. But that also means that we would get an additional $230.00 a month in cash flow.
Option 2: Pay it off this summer.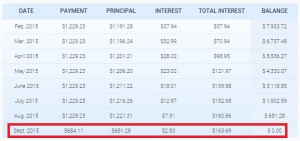 If I add $1000.00 to the monthly payment of $230.00, making the monthly payment $1230.00 ($1229.23 in the calculator), the final payment will be in September 2015, with a total remaining interest of $163.69. The blow to our savings wouldn't be as abrupt, but would be at the expense of $125.75 in interest ($163.69 – $37.94).
1 or 2?
As I layed out my options above, I decided to go with option 2, and pay it off by September, so that I don't feel like I totally blew my savings. Plus, I can always just pay it off anytime between now and September. This also gives me time to win the lottery.
Now for those of you that are asking, I purposely decided against paying off a student loan for a few reasons. First, since the hubby and I would like one of us to become a stay-at-home parent (or work-from-home parent), this allows us the freedom to have two cars without paying on them both. And second, our student loan providers would be much more willing to grant us forebearances, if needed, than the auto loan providers.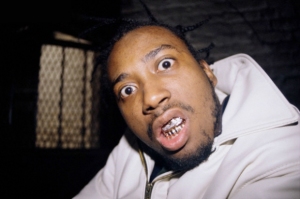 As Ol' Dirty Bastard would say, "Give me my money!"
Please follow and like us: