Childcare is one expensive necessity for working parents. Before my daughter reached kindergarten, the weekly cost of full time daycare was anywhere from $180 and $200, depending on her age (infant care is typically more expensive than toddlers and preschoolers).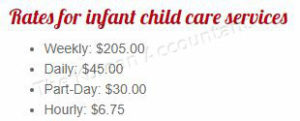 That's $10,400 a year for an infant. Now that she's school aged, the cost for before and after school childcare and the summer is roughly half of what it was this time last year. I don't have much more time to enjoy this increase in my cash flow, however, as our second child is due in less than 10 weeks.
Related post: Challenges Of Pregnancy Over 35
Related post: I Was Pregnant Without Insurance
Every now and then, I freak out about how we are going to afford an infant and a school aged child in daycare. Then my wonderful husband reminds me that we are in a much better financial position now then we were when our daughter was born more than 5 years ago. We now own a house, one of the two cars is on the verge of being paid off, and we have only one student loan (his) rather than two (his and mine).
Related post: I Owe $116,781.21 In Debt
Related post: Pay Off Auto Loan Or Roof Repair
Despite the expense of childcare looming in 2018, I will be forever grateful for the daycare's role in our daughter's upbringing, and the role it will play in our second child's upbringing as well. It allows my hubby and I to work and advance our careers, and thus increase our earning potential as she gets older and continually asks for things that are increasingly more expensive (like an iPad, which I said no to). As a working parent, a mom, and a woman, I can also teach her to be an independent woman and to work towards a goal, whatever it may be, rather than relying on someone else. In addition, bearing the expense of daycare allows us to earn a higher household net income than if one of us stayed at home with the children.
Relying on daycare also lets the teachers, who are much more knowledgeable in early childhood development than I am, help her reach the proper milestones and teach her the curriculum that prepares her for primary school. We had our first parent-teacher conference with our daughter's Kindergarten teacher a few weeks ago, where the teacher said Lilly has already reached the end of school year goal of writing all 52 letters (the entire alphabet in uppercase and lowercase), largely due to daycare and pre K (also called preschool).
In addition, daycare exposed Lilly to a variety of social situations that I, as an introvert, naturally shy away from. She's played with kids from different backgrounds, demographics, and those with physical disabilities. Lilly also knows a few of her kindergarten classmates from daycare, which made the transition from daycare to school that much easier.
And lastly, daycare has kept me sane. While my hubby would have no problem with being a stay at home dad, I was going crazy by the second month of my maternity leave when Lilly was first born. I yearn for the mental challenge of working and having a career and cringe at idea of losing my self-identity to become a stay at home mother.
Please follow and like us: