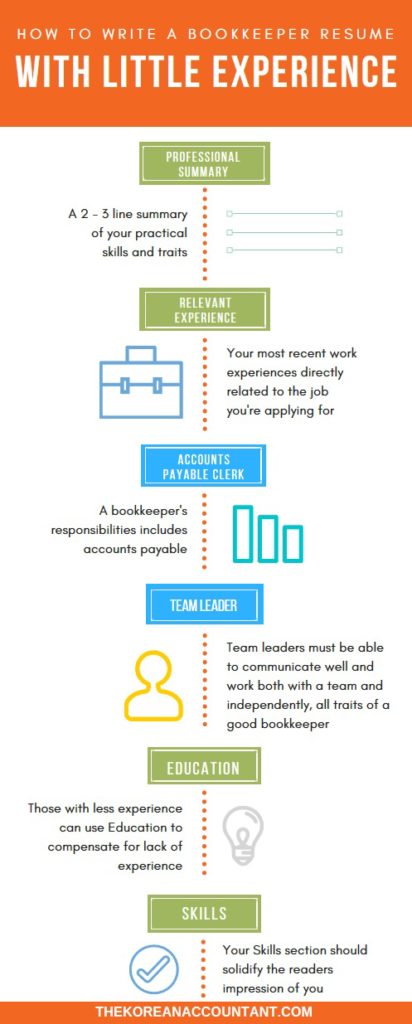 When I applied for my first real accounting job at a small business company, I had plenty of retail experience, little bookkeeping experience, and a degree in Accounting. I somehow had to write a bookkeeper resume with little experience. I was able to get the interview by writing a resume that emphasized aspects of my working experience and education that were aligned with the responsibilities and requirements of the job.
Related post: Writing A Resume With No Experience
Relate post: 20 Accounting Jobs You Can Get With An Accounting Degree
Here is a sample resume of a person with 2 years experience as an accounts payable clerk at a small business company. She is applying for a job as an accounting and general office administrative assistant at a construction company in the Rochester, NY area. This job was posted on Indeed.
Relate post: 9 Tips For A Successful Job Search
CONTACT INFO
Don't forget to include your contact info at the top of the page. Creating an awesome resume without providing a way to contact you makes the effort you put into the resume worthless. And if you're like me, resume writing can be a long and arduous process, which requires a lot of effort.
I always provide my name, mailing address, phone number, and email address. A PO Box mailing address is acceptable if you don't want anything mailed to your regular mailing address or if you live in a rural area. And an email address is practically a requirement these days. Most business correspondence is conducted using the internet in some way, and that includes applying for jobs. Your email address should be professional and normal, and not sound like a wrestling or stripper handle name.
PROFESSIONAL SUMMARY
Your PROFESSIONAL SUMMARY is a summary of your most practical skills and traits in 2 – 3 lines. It should hook you're reader immediately so that they want to read the rest of your resume. Reading tons of resumes is not fun, so as the potential interviewee, it'll work to your benefit if you can make the reader eager to read your entire resume.

For this resume, I wanted to use the words "accounts payable" and "W-9s" right upfront in the PROFESSIONAL SUMMARY because both are used in the beginning of the Primary Responsibilities section of the job description. This will hopefully retain the readers interest in the rest of the resume.
RELEVANT EXPERIENCE
In regards to the rest of your resume, your RELEVANT EXPERIENCE is the part that should make the reader want to contact you to set up an interview. You need to show the reader that you either have done or can do the responsibilities mentioned in the job description.

For example, in addition to the words "accounts payable" and "W-9s", I also included the words "AP checks", "vendors", "bids", "data files", "data entry", and "supplies" in the first section of the RELEVANT EXPERIENCE because this job most directly relates to the Accounting and General Office Administrative Assistant position that is available. This shows the interviewer that not only has she already handled accounts payable and office administrative functions, but that she should also be able to handle additional responsibilities like payroll and billing.

To add to the relevant experience, I also included her full-time position at a retail store and emphasized the responsibilities that are aligned with the job description. Specifically, I included the words "team" and "communication skills" as part of her responsibilities at the retail store to match two of the Necessary Qualifications in the job description.
EDUCATION
Since a degree can somewhat compensate for a lack of relevant experience, you want to emphasize the courses you took that are related to the job in the EDUCATION section. In regards to your GPA, you should only include it if you are either explicitly asked to or you have a high GPA (above a 3.0).

While studying for her A.A.S. in Accounting, she studied payroll accounting, cost accounting, and public speaking, amongst other topics. I included these three course in the EDUCATION section because the job responsibilities and requirements include payroll tasks and strong verbal communication skills, and the costs of production are an important area to understand in the construction industry. So even though she may not have direct experience in these areas, she is at least familiar with them enough to quickly learn them.
SKILLS
The SKILLS section is where you list any additional nuggets of information about your skills and experience that you could not fit into the RELEVANT EXPERIENCE section. It can include computer skills, licenses and certifications, languages, etc.

For example, hers includes MS Excel, MS Word, and Quickbooks, all softwares that she learned either in college or on the job.
And obviously replace the red bulleted item "ADDITIONAL SKILLS" with whatever skills you have that matches the job description. It also does not have to be titled SKILLS. It can be LICENSES AND CERTIFICATIONS, LANGUAGES, or any other relevant description of what you will be listing here.
Bookkeeper Resume With Little Experience
And that's how you write a bookkeeper resume with little experience.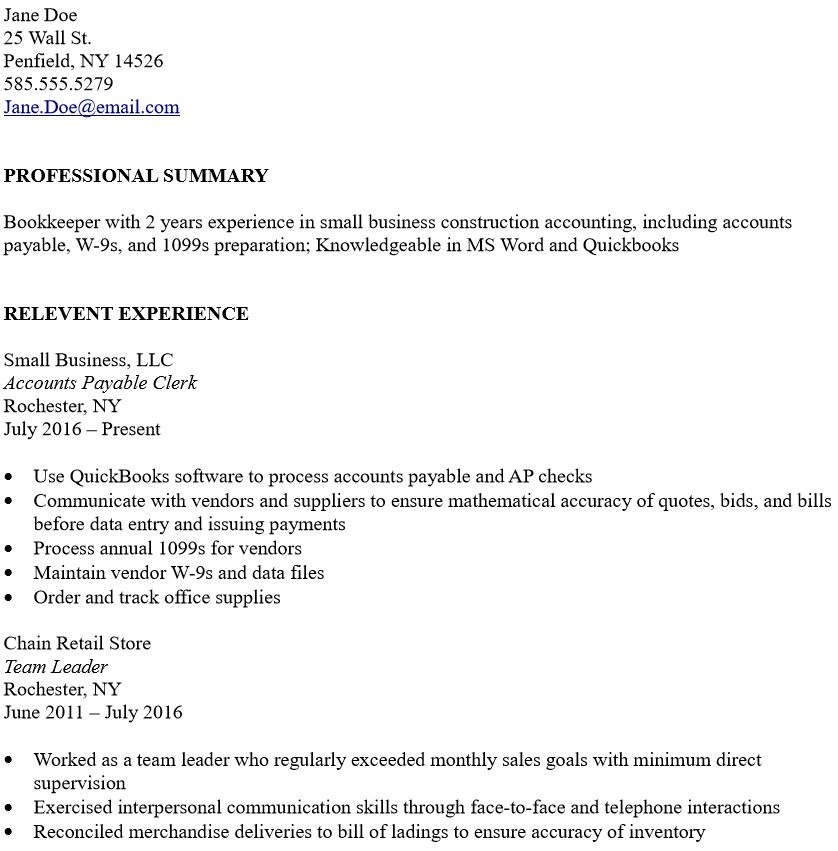 Notice that I use minimal formatting and colors. I keep the resume simple and easy to read so that the reader can focus on the skills and traits that the applicant will provide to the benefit of the employer, because that's what the boss really wants, an employee that will help her business.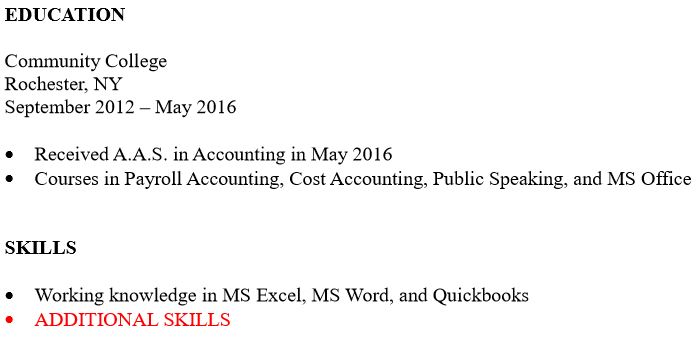 I also put a page break between the end of the RELEVANT EXPERIENCE section and the beginning of the EDUCATION section. This gives it a more natural break for the eyes, rather than in the middle of the EDUCATION section, and makes the second page look fuller.
In addition, I used small blocks of text and bullets to make it easier to read than giant blocks of text. And since I'm using bullets, I used sentence fragments rather then full sentences to make it easier and faster to read. You want the reader to gather the key information quickly.
If you have a resume you'd like me to look at, leave a comment, tweet me, or send me an email.