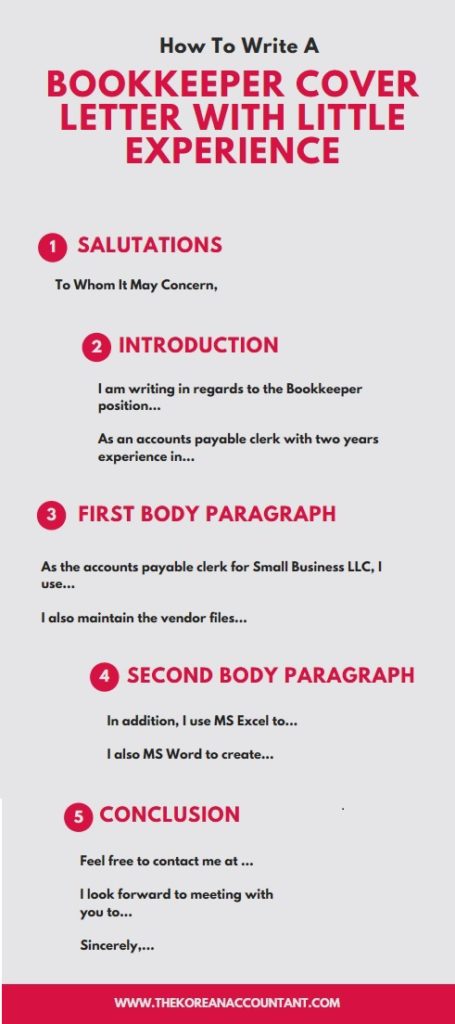 Writing a bookkeeper cover letter with little experience can be stressful. Here is a sample cover letter to match the sample resume I previously prepared for a person with two years' experience as an accounts payable clerk at a small business construction company in the Rochester, NY area.
Related Post: How To Write A Bookkeeper Resume With Little Experience
Related Post: Writing A Resume With No Experience
Related Post: How To Write A Cover Letter Without Experience
She is applying for a Quickbooks/Bookkeeper position at a transportation company, also located in Rochester, NY. The job was listed on Indeed.com. Below is the job listing.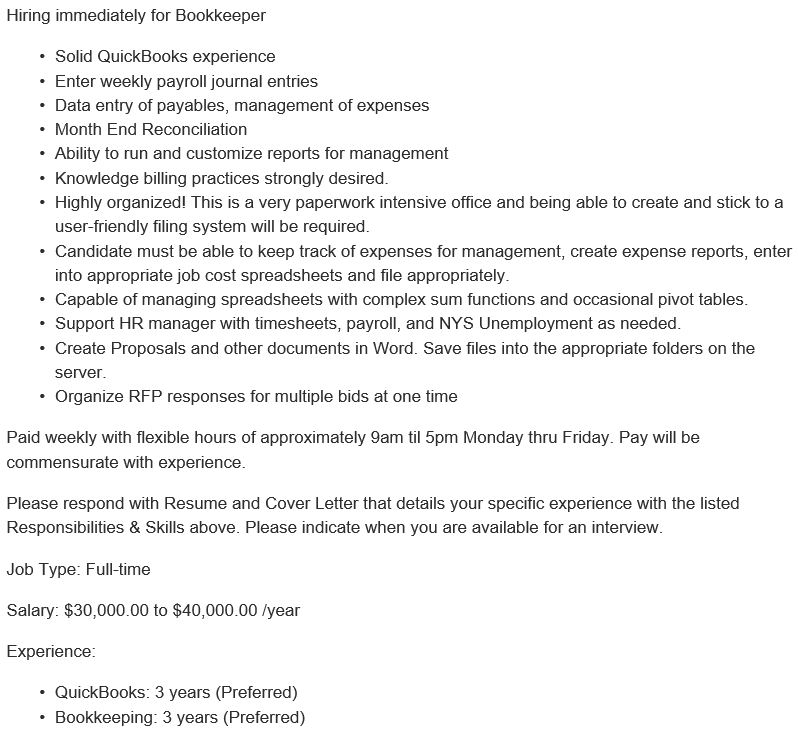 Related Post: 9 Tips For A Successful Job Search
Bookkeeper Cover Letter With Little Experience: Salutations
The job listing says to respond to the job on the Indeed website and does not list a name, so Jane used the classic "To Whom It May Concern" greeting as the Salutations.

If the job listing did list a name, Jane would use "Dear" instead.
Introduction
In the first sentence of the Introduction paragraph, Jane immediately stated why she is writing to them and where she found the job listing.

The second sentence states her related experience and a broad overview of how she would benefit the company. She uses several of the same keywords listed in the job listing. She specifically used the words "journal entries", "payable", "data entry", "proposals", "bid documents", and "paperwork", so that if a computer or person is quickly scanning her cover letter, those keywords will stand out quickly.
First Body Paragraph
In the first body paragraph, she gets more in depth with what she did as an accounts payable clerk. She explicitly uses more keywords that are in the job listing, including "Quickbooks" and "expense reports". And while she didn't use the acronym "RFP" which is in the job listing, Jane uses the words "Requests for Proposals", which is what "RFP" stands for.
Jane also includes a description of other responsibilities she has as the accounts payable clerk, including maintaining vendors files and filing the annual federal 1099 forms. Vendors (and subcontractors) are a crucial component of a customer job, especially in the construction industry and anything related to the construction industry, like a transportation company. It's important to have all vendor paperwork in order when preparing a quote or bid, as the slightest mistake could result in disqualification. In addition, most businesses have to file 1099s every year, so her experience with vendors and anything related to vendors, like 1099s, makes her that much more qualified for the position.
If you're not sure what a 1099 is, here's my 10 Things Every Small Business Office Manager Should Know that explains what a 1099 is, amongst other things.
Second Body Paragraph
In the second body paragraph, Jane explains that she also used MS Excel and MS Word as part of her job to analyze expenses and create documents and other various written communication.

Since the job description explicitly requests that the job candidate be "capable of managing spreadsheets with complex sum functions and occasional pivot tables," Jane shows that she is knowledgeable enough in MS Excel to name the categories of MS Excel functions, mathematical, logical, and reference. That means she is capable of, if she doesn't already know, learning advanced MS Excel functions and pivot tables.
Conclusion
In the Conclusion paragraph, Jane explicitly tells the reader how to contact her and provide her telephone number so the reader can call her immediately and doesn't have to look for the phone number.

She also provides when she is available to interview, as it is explicitly stated in the job description to provide her availability.
And there you have it, a bookkeeper cover letter with little experience. The most important tip about creating a cover letter is to proofread and triple check for logical, spelling, grammar, and punctuation. A cover letter with mistakes, especially multiple mistakes, is worse than not providing a cover letter at all.
The second most important tip is to use concise and direct sentences that use the same keywords that is in the job description. A cover letter should not be long, so you don't have a lot of space to dazzle the reader with your skills and qualifications.
My final tip is to be truthful in your cover letter and not lie. The job description heavily implies that MS Excel and MS Word are important skills for the job candidate to have, so you shouldn't say you have those skills if you can't prove you have them.
Related Post: 12 Tips On How To Become An Indispensable Employee
Your future employer will not be happy with your performance if they find out that you can't save a MS Word document after dazzling them with your great looking cover letter.
Leave a comment if you need any help with your cover letter.