Tomorrow is January, which means it's time for nearly every small business to prepare the 2018 1099s. But what is a 1099-MISC and how does it work?
Related post: 10 Must Knows For Every Small Business Accountant Job
Related post: 10 Things Every Small Business Office Manager Should Know
What Is A 1099?
A 1099 is a federal form that reports income to the recipient of the 1099 and the IRS.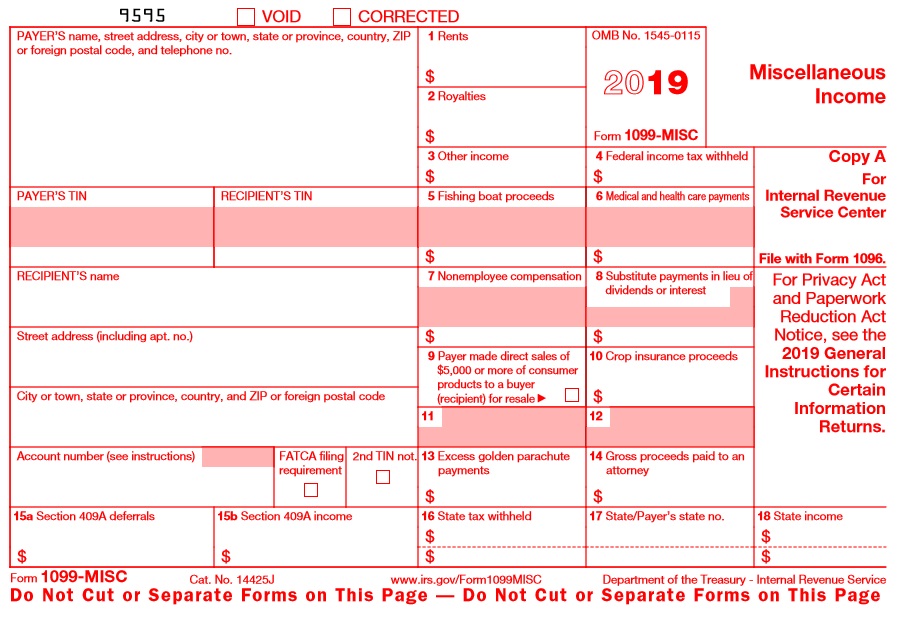 It is similar to a W-2 for an employee, but it is for individuals and companies who are not direct employees of the small business. Basically, it's for your vendors and subcontractors. Those people that you paid to do something for your small business. It's important to note that I am focusing below on specifically the 1099-MISC, which is the most common 1099. There are several other 1099s, which are less common. Here is a general description of a 1099-MISC, what to do if you get one, and what to do if it's incorrect.
When Are 1099-MISCs Due?
Most 2018 1099-MISCs are due January 31, 2019. That means they must be filed with the IRS and mailed to the recipient by January 31. Some are due on February 28, 2019 or March 31, 2019, but those 1099-MISCs are not as common.
How To File Paper 1099-MISCs
Assuming your financial records are organized (every successful small business has organized financial records), filing (paper) 1099-MISCs isn't hard. But they can be time consuming, especially if you use a lot of vendors. Financial records that are computerized are a big help. Many small business accounting softwares are able to print 1099-MISCs, saving a lot of time.
Where To Get 1099-MISC Forms
The first step is to get the 1099-MISC forms. When filing paper 1099-MISC forms, you have to use a specific form that is scannable. I usually order them from the Staples website, but you can get them almost anywhere.
When you order 1099-MISCs, don't forget to order the special 1099-MISC envelopes. And for every batch of 1099-MISCs you mail to the IRS, you need to include the 1096. A 1096 is the summary sheet for the 1099-MISCs.
So when you order the 1099-MISC forms, you can order just the forms, or a whole kit with the forms, envelopes, and a few 1096s. And make sure you order enough of everything, and a little more. Mistakes happen, and printers malfunction. It's not fun when you realize that you need more forms on January 29. Believe me, I know.
And don't forget stamps!
Prep Work For Filing 1099-MISCs
I said that you have to prepare 1099-MISCs for your vendors and subcontractors. You don't have to do it for every single vendor or subcontractor. Only ones that meet certain criteria.
Who Should Get (Or Not Get) A 1099-MISC
Incorporated vs Unincorporated
Most corporations do not need a 1099-MISC. That means that unincorporated businesses need a 1099-MISC. Usually businesses that have "Inc." in their name are incorporated, and thus do not need a 1099-MISC. The exceptions are CPA firms, lawyers, and medical and dental practices. They should get a 1099-MISC whether or not they are incorporated. Another easy way to tell if you should send a 1099-MISC is if the business has LLC or LLP in their business name. In addition, landlords, and pretty much anyone self-employed should get a 1099-MISC. So the guy that mows the grass at the front of the office building should get a 1099-MISC.
Goods vs Services
1099-MISCs are usually not needed if you purchased goods or materials from the vendor. They are more for services purchased from the vendor.
$600 Threshold
1099-MISCs are not usually needed for payments to vendors that total less than $600.
Check Payments vs Credit Card Payments
1099-MISCs are not usually needed for credit card payments. They are reported on another type of 1099, which are sent by the credit card merchants (such as Paypal).
So, Who Gets A 1099-MISC Again?
Got it straight yet? It's confusing the first time around. Say you bought a $1000 desk at your local office furniture store and paid for it by check (in 2018). You don't need to provide a 1099-MISC because you purchased goods, the desk. Instead, say you paid a self-employed painter $500 by check to paint the office. You don't need to provide a 1099-MISC because you paid the painter less than $600. Now say you paid an advertising consultant $1500 by check to create a tv commercial for your business. If the company is a corporation, you don't need to provide a 1099-MISC. But if it is a limited liability company (LLC), you do need to provide a 1099-MISC. But how do you know for sure if they are incorporated or not? Request their W9.
What Is A W9?
A W9 is a federal form that provides the recipient (you) the basic name, address, company structure, and tax ID number of the business signing the form. So if you need to know if a business is a corporation (the company structure), you can request that the business send you their W9. You should have it as part of your financial records anyway. A lot of the info on the W9 is needed to send the W9 company their 1099-MISC, especially their mailing address and tax ID number.
So now you know who you need to send the 1099-MISCs to. For every name on that list, you'll need their mailing address, tax ID number, and amount that you paid them in total in 2018. If you're missing either the address or the tax ID number, ask them to email or fax you their W9. Getting it mailed to you will take too long for your January 31 deadline. In an organized set of books, it will be fairly easy to calculate how much you've paid each vendor.
How To Fill In A 1099-MISC
One you've prepared all the info, the next step is to fill in the forms. While the forms can be handwritten, it saves a lot of time if your accounting software can print the forms for you. You should double check that each form printed correctly. I suggest making copies of the official IRS form (both the 1099-MISC and 1096) and printing on them first so you can fix any errors before printing them on the official IRS forms. You can also figure out how to put the forms in the paper tray correctly during this trial run.
Payer's Info
The payer's info is your info, your business name, address, phone number, and tax ID number.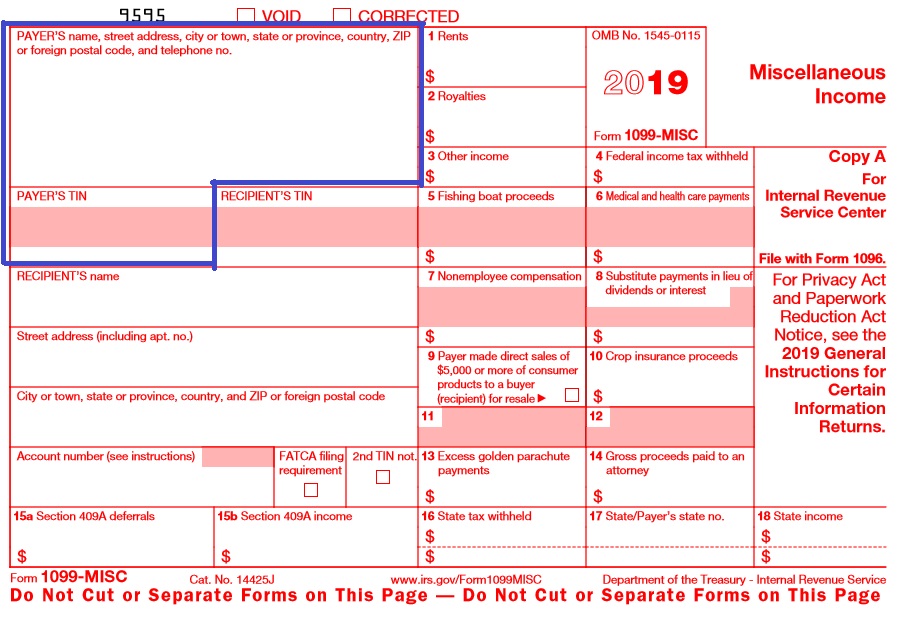 Recipient's Info
The recipient's info is the info of the vendor you're sending it to, their business name, address, and tax ID number.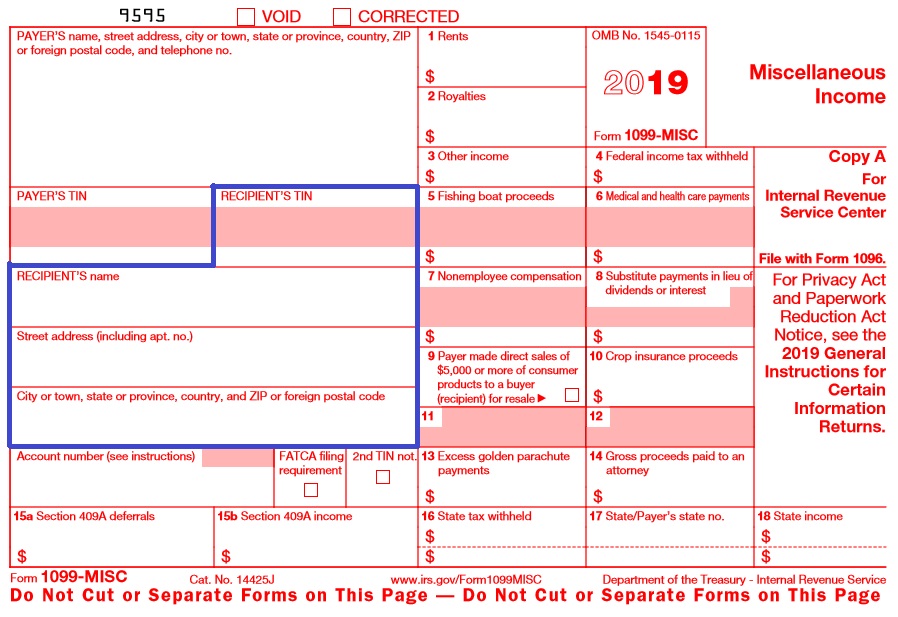 It's important to include this information, because if it's omitted or incorrect, the IRS will send you a letter asking you to correct it. And when you've got a full day of tasks that need to be completed, it's annoying to have to stop working on your own tasks and address the mistakes months after you thought you were finished with the 1099s.
Income Boxes
The most common income boxes on a 1099-MISC are boxes 1 for Rent, 2 for Royalties, and 7 for Nonemployee compensation, Box 7 being the most common.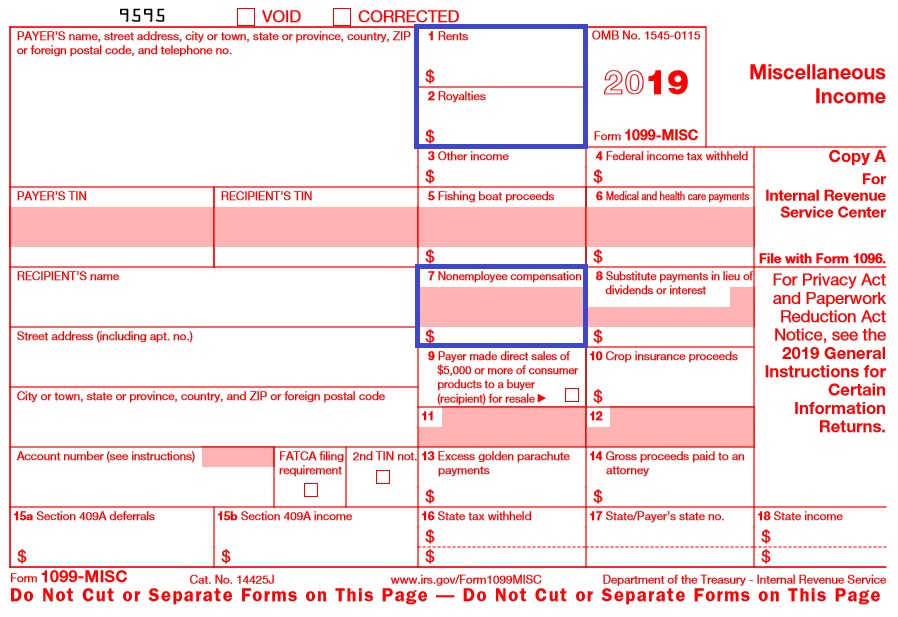 Box 7 is used for paying your CPA, lawyers, and subcontractors like the painters, consultants, electricians, independent contractors, the lawn care guy, etc. One quick note for the lawyer, Box 7 is for the amount paid to the lawyer for their legal services. Box 14: Gross proceeds paid to an attorney is for paying the settlement proceeds directly to the lawyer, not for their legal services.
Box 1 is for the rent that you paid to the landlord, and box 2 is for any royalties paid to another party.
Print And Mail
After you've printed the preliminary 1099-MISCs (and 1096) and everything looks correct, you can now print the final version on to the official IRS forms. You'll be printing them multiple times, as there are several copies that need to be mailed.
For the main IRS package, which includes all the 1099-MISCs and the 1096, you'll print 2 1099-MISCs to a page. You should mark the VOID box on any blank 1099-MISC that prints. Don't forget to sign and date the 1096 and tear off the perforated sides of all the 1099-MISCS before stuffing the big envelope.
Each vendor copy also prints 2 to a page, with 2 vendors on one sheet. You'll have to separate them from each other before putting all the copies for each vendor into the special envelope. Make sure the printed side faces out so that the recipient's address can been seen through the window of the envelope.
Seal, stamp, and drop them in the mailbox. All done!
1099s Next Year
The first time I ever did 1099s, the prep work took several days as I had to make sure I had all the information, like the mailing addresses and tax ID numbers. I had to call a bunch of vendors to get their W9s. The best thing to do is request a W9 the first time you use a vendor and ask for a new one every year during the summer and fall months so you're not scrambling on January 29. And if you use an accounting software, maintain the list of vendors throughout the year so that it's all ready to go when you start working on the 1099s.
Of course, I have not been doing that, so I better get started on the prep work as soon as I return to the office this week. I better put the 1099 forms in the next Staples order too
Or you could always ask your CPA to file the 1099s. Just make sure to ask them soon.
Will you be filing the 1099s or asking the CPA to do it?